Farko Dosumov was born in the city of Tashkent, Uzbekistan.
He started taking lessons on the classical guitar when he was ten, and then
switched to the electric bass at fourteen years of age. After winning the
green card lottery in 1999, at nineteen, he moved to New York City to
pursue a future career in music. Farko later attended Cornish College
of the Arts, located in Seattle, Washington, and specialized in jazz bass.
Since then, he has played with many talented artists and groups such as
At age 10 John Stout began slowly, but steadily becoming addicted to
music. By the time he was fifteen he was already out "gigging" in
several rock and jazz bands. While earning a BA in Music from the
University of South Carolina he co-created the popular regional band
"Shades of Grey" which toured all over the United States, released
three albums, and performed with bands like Vertical Horizon, Edwin McCain, Widespread Panic, Cracker,
Rehab, and many more. During this time he also had the opportunity to perform
as a substitute percussionist for the multi-platinum selling band Hootie and the Blowfish.
In early 2006 John released his first solo album "No One's Listening," for which he wrote all the music
and lyrics in addition to performing almost every instrument:
piano/keyboards, lead vocals, drums, percussion, and bass guitar. John is an in demand studio musician
and he maintains a busty teaching schedule, including clinics, private lessons,
and master classes on drums, concert percussion, latin percussion, and piano.
His exciting and virtuoso drumming is the perfect compliment to Howard's passionate guitar work
and he has been a regular member of the James Howard Band since 2008.
Michael Baxter on Keyboards: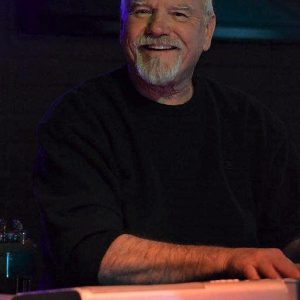 Winner Washington Blues Society Best Piano/Keyboards 2016, 2017,
and 2018, Michael Baxter is a keyboard virtuoso. One of the top
keyboardists in Seattle WA. Papa Bax is a soloist, studio musician,
bandleader, touring musician, published songwriter, BMI Inc.
and winner of numerous songwriting and performance awards, He is a
founding member of Bands: St. John Green, Jumbo, and Super
Session Hawaii.