James Howard is an explosive blues/rock guitarist and singer-songwriter, who wows his audience with the kind of force and passion reserved for guitar legends. Howard carries the torch of lead guitarist/singer-songwriter in the tradition of Jimi Hendrix, Eric Clapton, Neil Young and Stevie Ray Vaughn.
Bernard Bauer of Music Connection Magazine:
"Guitarist extraordinaire…animated, energetic and intense performance… a breathtaking exhibition… pushed the crowd to the edges of their seats…simply awesome" -and – "…he mixes the intensity of Stevie Ray with the passion of Hendrix and plays some of the meanest blues this side of the Mississippi. He takes his phenomenal blues to places others have not, making the music his own. He has what it takes to bring the blues up to the next level".
Craig Ruskey of Delta Snake Daily Blues Online Magazine:
"What Howard can do with a guitar is remarkable in a word …will have veteran guitar players wondering where the licks are coming from … Howard's guitar is sweet and brilliant and laced with Spanish overtones and a fluid approach that is chilling. He knows his craft. .. deep in the well when it comes to guitar wizardry & creativity."
Lee Cotton of Rock and Blues News Magazine:
"… a Jimi Hendrix on guitar with John Lennon's voice and vision … a songwriter with great depth."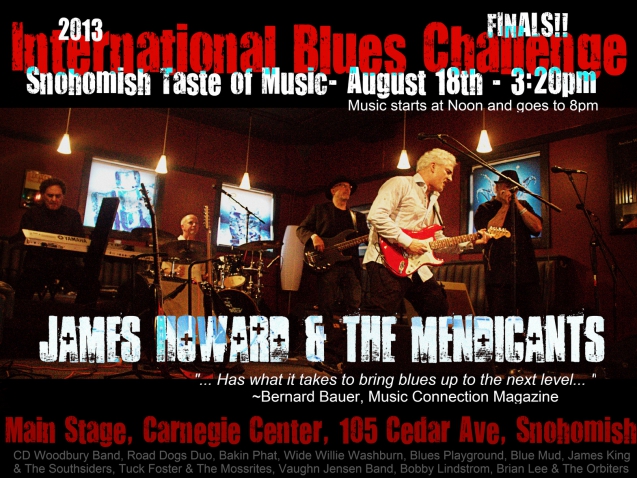 Related showJames Howard Shows: James Howard BandDate: 08/18/13Tim ...